Q Power and Insta have agreed on the delivery of automation centers and related system equipment to the Harjavalta methanation plant. Insta is a Finnish family-owned business with over 60 years of experience in automation and digitization solutions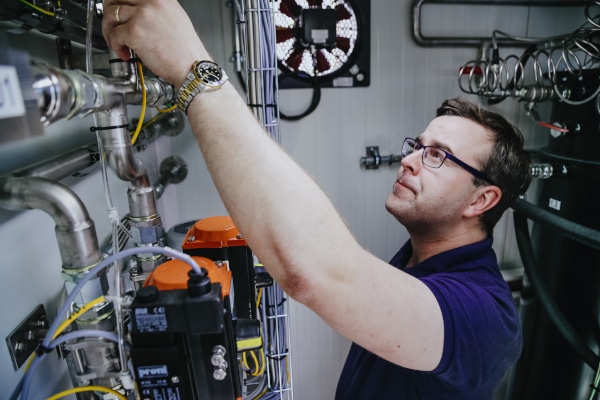 Delivered by Q Power, Finland's first industrial-scale renewable synthetic methane production plant will be built in Harjavalta in connection with P2X Solutions' green hydrogen production plant. Part of the sustainably produced hydrogen is refined into synthetic methane in biological methanation reactors supplied by Q Power.
The heart of Q Power's methanation is a biological process where microbes do the work they have specialized in over millions of years. Q Power has developed microbiological cutting-edge technology that enables highly efficient synthetic methane production. Automation is an important part of controlling the process.
"We have had good cooperation with Insta in the development phase and the projects have gone smoothly in all aspects. Now we get to cooperate on the delivery side regarding the automation system equipment for the methanation plant being built in Harjavalta," comments Q Power's technical director Marko Niskanen and continues "For us, the efficiency and reliability of Q Power's technology are very important in the operation of the plant during its entire life cycle. Automation plays an important role in this and that's why we chose Insta as the supplier of the automation center and related system equipment for this project. They have solid industry expertise in both energy production and industry."
Insta is also happy with the resulting agreement, and sales manager Kimmo Suonperä states, "It's great to be part of making history. We have found the cooperation with Q Power to be interesting and now we have been selected as the supplier for the first implementation of an industrial-scale plant, naturally, we are happy about the deepening of the cooperation".
According to the schedule, the delivery and commissioning of the synthetic methane production plant will take place in 2024 at the same time as the hydrogen production plant.
Other news:
The cooperation between Q Power and Volter continues and expands to manufacturing for the Harjavalta methanation plant
Finland's first large-scale power-to-methane project is moving forward – Q Power orders e-methane reactor module structures from Enersense
More information
Q Power
Eero Paunonen, CEO
Tel. +358 44 425 2269
Email: eero.paunonen@qpower.fi
Marko Niskanen, Technical Director
marko.niskanen@qpower.fi
+358503575363
Insta Automation
Kimmo Suonperä, Sales manager
+358 50 579 0287
kimmo.suonpera@insta.fi
Q Power in brief:
Q Power enables its customers to move towards a fossil-free and self-sufficient energy system by developing and delivering cost-effective, high-efficiency production technologies to their customers. By the end of the decade, our goal is to produce 500 MW of renewable synthetic fuel production capacity annually. Q Power – Concrete solutions for fighting against climate change www.qpower.fi
Insta in brief:
Insta creates and secures the digital future. We are a reliable partner for our industry, defense and cyber security customers. By combining the state of the art know-how with intelligent technology, we improve our customers' safety and performance in a digitalizing world that is changing at an increasing pace. Our operating culture is founded on people, expertise and responsibility. In 2022 our family company's net sales were 153.4 million euros and number of personnel was approximately 1,150. For more information, please visit: www.insta.fi