Q Power, a pioneer in the development of synthetic methane technologies, and Convion, a leading provider of solid oxide electrolyzer and fuel cell technology, have joined forces to develop an efficient concept for biogas plants to maximize the value of their assets. This collaboration harnesses the power of Q Power's methanation technology and Convion's hydrogen production and fuel cell technology to address the growing need for biogas upgrading. The jointly developed concept will be modular and fully scalable for biogas production facilities starting from below 1MW.
The growing demand for replacing imported natural gas with renewable alternatives is driven by an imperative to decarbonize and secure the supply of energy in Finland and globally. For bridging the gap between supply and demand for natural gas in Europe, locally produced biogas is a potent and only partially utilized resource.
Harnessing the full potential of biogas plants
Biogas upgrading is an important step. Conventionally CO2 is separated from biogas and released into the atmosphere, wasting valuable resources. The partnership between Q Power and Convion aims to revolutionize this process by integrating methanation and hydrogen production technologies into a cohesive concept that maximizes resource utilization and the amount of produced biogas.
To fully capture the value of a biogas resource, carbon dioxide (CO2) contained in biogas can be converted to methane (CH4) by methanation, using renewable hydrogen (H2) produced by electrolysis and, as a result, significantly increasing the production of renewable methane. An individual producer can even double the amount of gas they produce. Given the intermittent nature of renewable power sources, Convion's electrolyzers have the capability to switch into a power generation mode, utilizing biogas directly as a fuel, when grid electricity is expensive. Bi-directional operability of the system offers maximum flexibility and alternative revenue streams for the plant owners to optimize their operations.
Combining two cutting-edge technologies for superior efficiency
Convion's solid oxide system technology offers several advantages for the concept. Solid oxide fuel cell (SOFC) and electrolyzer (SOEC) systems are renowned for their unparalleled efficiency, making them the top choice for power conversion and hydrogen production across different scales. Due to the high operating temperature, hydrocarbon fuels such as biogas can be used directly as fuel for power generation at 60% net electrical efficiency, and by-product heat is readily available for capture and utilization. The electrical efficiency of steam electrolysis is over 85%. In Convion's bi-directional system platform, the two use-cases converge and offer a customer ultimate flexibility for plant optimization.
Q Power brings over a decade of research and development experience in the efficient production of carbon-neutral synthetic fuels. Their biocatalytic methanation process, powered by unique microbes originally isolated from Finnish marshland, is the most energy-efficient solid-state methanation technology on the market, with a remarkable plant efficiency of 81% (from hydrogen to methane), and on top of this excess heat can be utilized. This modular technology can be seamlessly scaled from small-scale to industrial scale. The Q Power reactor design ensures efficient gas transfer and biological efficiency without the need for heating, pressurization, or constant fluid pumping.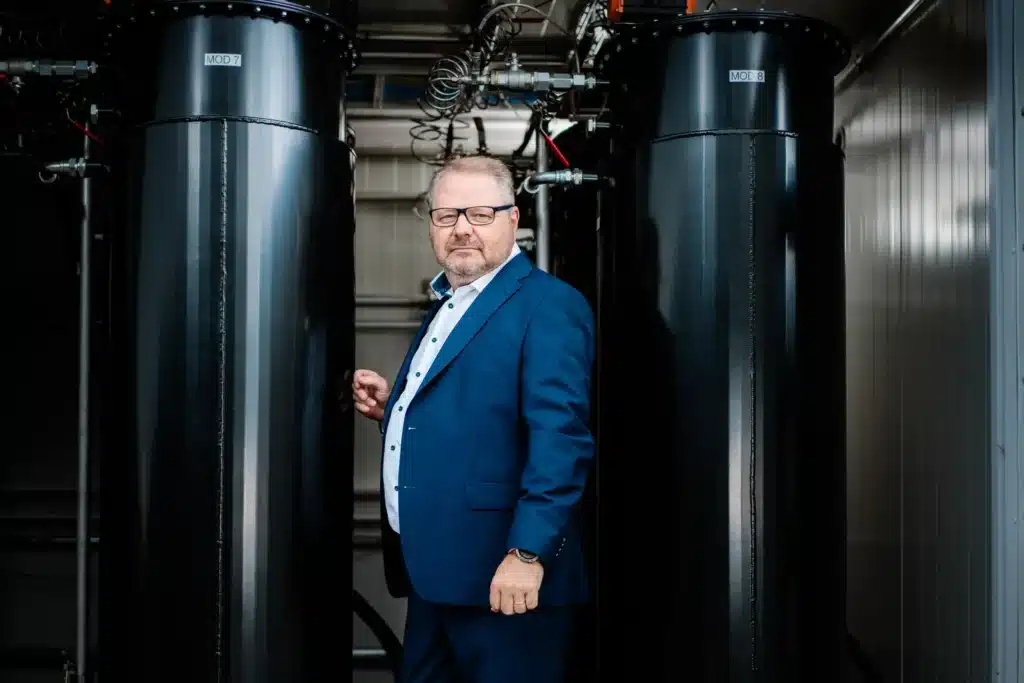 "In combining Q Power's unmatched methanation expertise with Convion's state-of-the-art SOC technology, we are introducing a game-changing modularly scalable concept for biogas upgrading," said Q Power's CEO Eero Paunonen "Our collaboration will empower biogas plant operators to increase their production and reduce emissions. This helps biogas producers contribute to a sustainable future while using the CO2 in the biogas for doubling the gas production and meet the growing demand for biobased fuels and bio-LNG."
"We are excited about the possibilities this partnership brings to the biogas industry," said CEO Erkko Fontell at Convion. "By merging our respective strengths of Convion's and Q Power's highly efficient and modular technologies we can deliver turn-key solutions to the biogas sector. We are creating a concept that will streamline biogas upgrading processes and bring the much-needed modular electrolyzer combined with methanation into the market."
Q Power and Convion are ready to serve the biogas industry by providing a comprehensive and efficient solution for upgrading biogas. This collaboration exemplifies their commitment to advancing state-of-the-art technologies in sustainable energy solutions for customers' needs, reducing greenhouse gas emissions, and driving the energy transition toward a greener and more sustainable future.
For media inquiries or further information, please contact:

Q Power Oy
Marko Niskanen, Technology Director, fistname.lastname@qpower.fi +358 50 357 5363
Eero Paunonen, CEO, fistname.lastname@qpower.fi, +358 44 425 2260
Paula Korkeamäki, Director of Communications and PR fistname.lastname@qpower.fi , +358 40 757 7177
Convion Oy
Tuomas Hakala, Co-Founder, Business Development, fistname.lastname@convion.fi  +358 400 359 776
Erkko Fontell, Co-Founder, CEO, fistname.lastname@convion.fi , +358 40 7544389